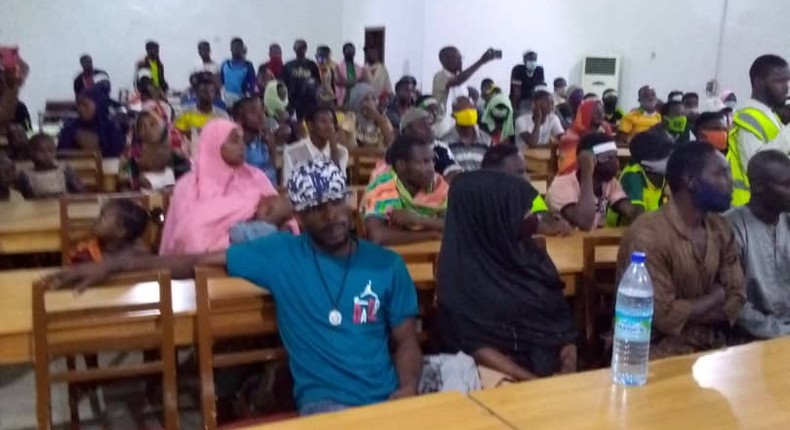 The National Emergency Management Agency (NEMA) On Thursday Received 98 Nigerians Stranded from Agadez in Niger Republic.
NEMA receives 98 stranded Nigerians from Niger Republic
The NEMA Coordinator, Kano Territorial Office, receiving the returnees in Kano.
The returnees were brought back to Kano in three luxury buses under the care of the International Organisation for Migration (IOM) from Agadez.
The returnees were brought back through a voluntary repatriation programme for the distressed who had left the country to seek greener pastures in various European countries and could not afford to return when their journey became frustrated.
He said that the returnees included 81males adult, six females adult and 11 children (three females and eight males).
According to him, the returnees are from different parts of the country, some from Kano, Kaduna, Katsina and Edo, amongst other states.
The returnees will be trained for four days to be self-reliant and will be given a grant.
The News Agency of Nigeria (NAN) reports that the returnees were given blankets, toiletries, clothes and food.
We urged Nigerians to avoid endangering their lives by traveling to seek greener pastures in other countries.
A Returnee, a Widow and Mother of four from Kaduna State, traveled to Algeria for greener pasture
NAN reports that the agency had on May 21, received 129 Nigerians stranded from Agadez.
NAN reports that the returnees were received by NEMA, other sister security agencies, the National Commission for Refugees, Migrants and Internally Displaced Persons; Nigeria Security and Civil Defence Corps (NSCDC) and Nigerian Red Cross.